I learnt something new
there is a description on the co-op badges of how to achieve them! Question is do they say the same thing for everyone?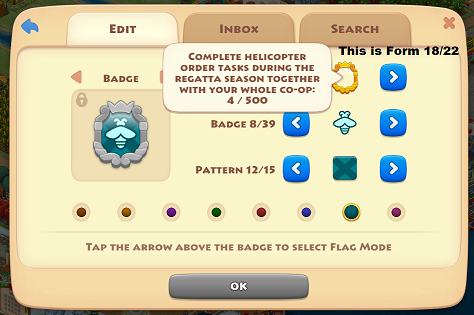 Does anyone have the other ones that I have missing, please? Once you have achieved them you can't see what they were for.
1 default
2 default
3 default
4 default
5 default
6 default
7 default
8 default
9 default
10 default
11 Give product upon request together with the co-op /10000
12 Finish in the top three of the golden league in the following number of regattas /20
13 
Finish among the top 200 co-ops in the regional regatta
14
15 Earn tokens for the regatta season together with your whole co-op /5000
16 Complete animal feeding tasks /500
17 Complete production tasks /300
18 Complete helicopter order tasks /500
19 Complete train sending tasks /500
20 Complete airplane sending tasks /400
21 Complete island delivery tasks /400
22 Complete zoo order tasks /300